The heroin epidemic is real.
3,495+ people died in 2016 from opioid overdose in the state of Ohio.
It's impacting families, communities, schools, places of employment. People are looking for solutions – ways they can get involved – ways to help.
We've collaborated with local groups, churches, ministries and organizations to combine efforts and work together to solve this problem. GreaterThanHeroin.com is a resource center and place you can educate yourself and find the tools and resources to get involved. The fall packet has some simple and easy ways for you to get involved.
Please take a moment to review the information in the Fall 2017 Awareness Packet.
If you find it helpful, please share it with your members.
Breaking the Silence & Stigma
Over the past year, a group of civic and faith leaders have been working together to create solutions for all affected by this crisis. In all our conversations and meetings, one recurring struggle keeps emerging – namely – a key part of the crisis (and actually the way to solve the crisis) is to break the silence and the stigma about the heroin epidemic, along with helping people suffering, to have the permission to talk openly about what is taking place in their homes and families.
WHAT YOU'LL FIND IN THIS PACKET:
Overview
Upcoming Fall Events
November 8 Prayer Service Locations
Easy to use and implement announcements for your faith community publication
Talking points, tools and ways to get involved
Tools and resources to spread the word.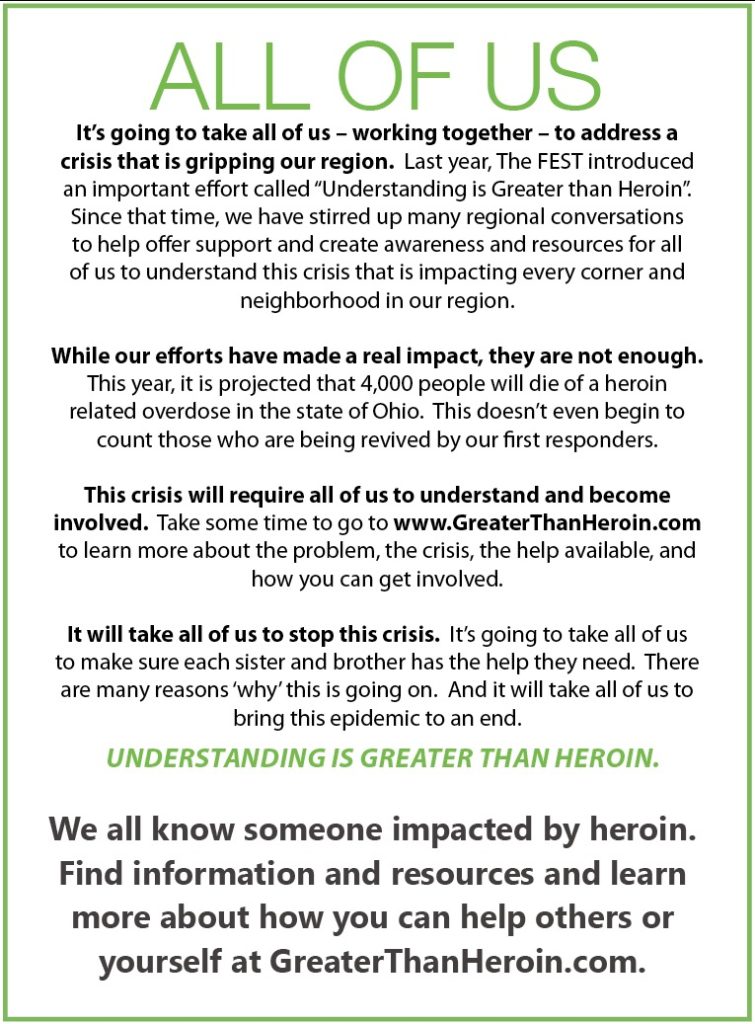 WE REMEMBER
The loss of a loved one is never easy. Even more, the loss of a family member, or friend, from an overdose is both tragic and painful. In these moments, we need the Lord and support of family, friends and community.
Please join us as we come together to remember those who have died because of addiction. We come together to pray with (and for) their family and friends that they may know the comfort and peace of the Lord.
The prayer service is designed to be meaningful and welcoming to people of all faith denominations.
We will have appropriate literature and support personnel.
Spread the word and invite those in need to join us across our region on Wednesday, November 8, 2017.
It is a way of bringing hope and healing to those who have lost loved ones as we remember their lives and goodness. It is also a way of standing together as a region to create awareness of the pain and devastation being caused by this epidemic.
For more information or an invitation that you can download and send to family, friends, members, please go to: www.GreaterThanHeroin.com/November8.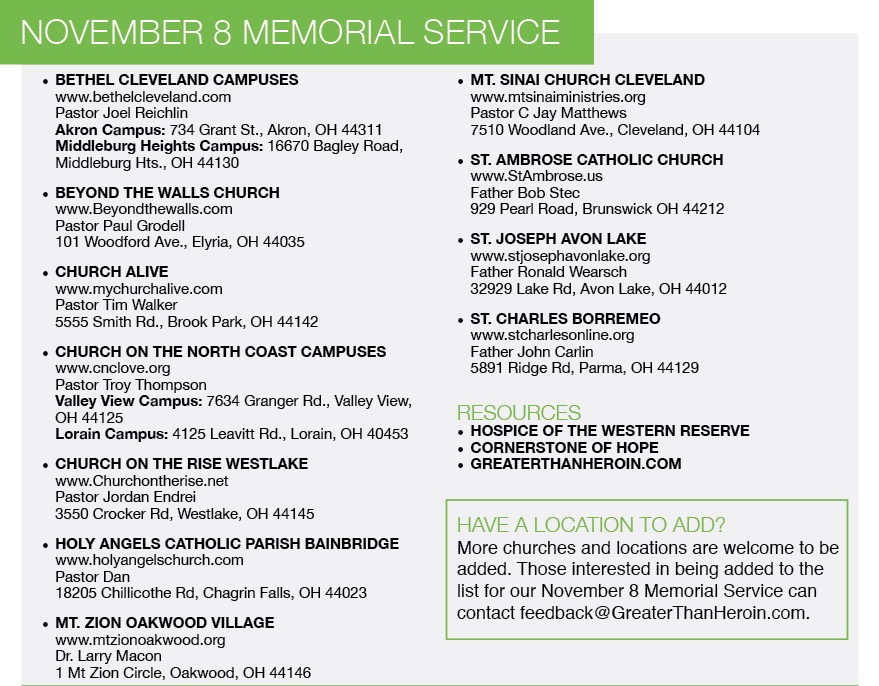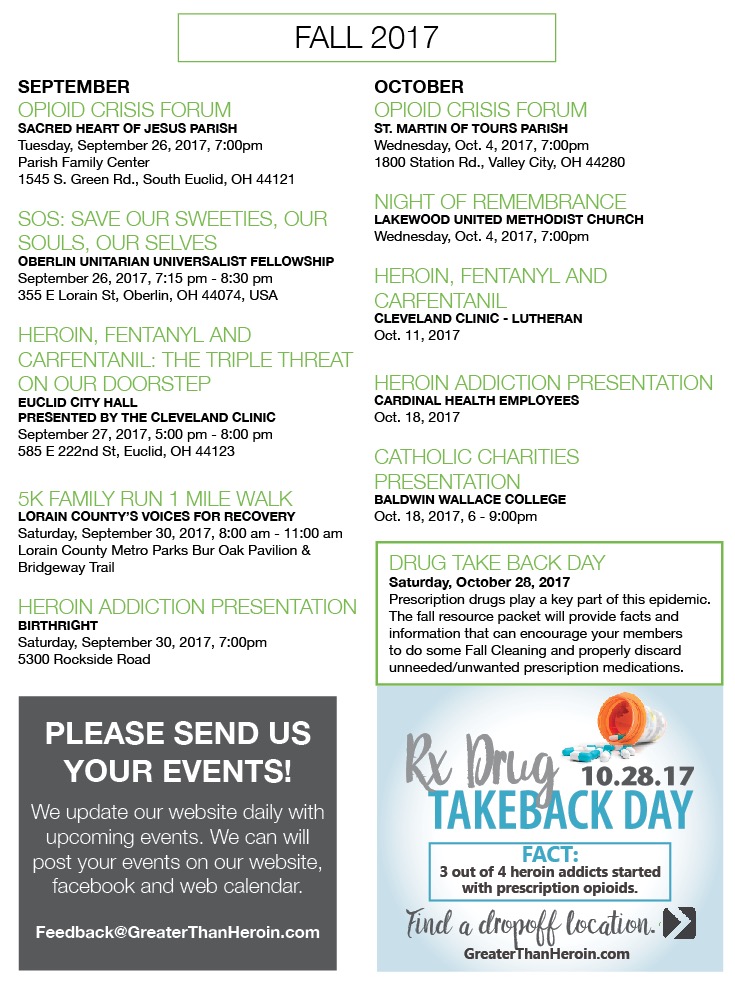 PUBLICATION ANNOUNCEMENTS
October 7/8
Understanding is the key!
There is a crisis in our region. Hundreds are dying and thousands are impacted by the heroin epidemic. It's not something we want to talk about, but we need to. Take a few minutes to learn more by watching some helpful (and hopeful) videos. Go to: www.GreaterthanHeroin.com/video. Understanding the crisis is key to making our community stronger, healthier and holier.
October 14/15
Let's talk about it
One of the most difficult struggles for those who have family members using and/or addicted to drugs, especially heroin, is shame and silence. They often have no one to talk to about their pain and the heavy burden on their hearts. We can change that together. There is a crisis raging in our state. The heroin epidemic is wreaking havoc on hundreds and thousands of individuals and families across our region. Learn more so that you can be that person others can turn to in their time of need. Go to: www.GreaterthanHeroin.com. Understanding is greater than this crisis. Together we are greater than heroin. Each of us can be a source of hope, help and healing to someone in need.
October 21/22
Everyone can do something
As our region grapples with the heroin epidemic there are a few things that each of us can do. Next weekend is Drug Take-Back Day. Take a few minutes to bring all your unused and unwanted prescription drugs to your local police or sheriff's department. It will keep you home and our environment safe. All of us can also learn more about the epidemic. Go to: www.GreaterthanHeroin.com. Please remember in prayer all those who are suffering from this terrible addiction and for their families and loved ones.
October 28/29
There Is HOPE
Many in our region are struggling with the pain and devastation caused by the heroin epidemic. We will be gathering together with our local churches for a remembrance service on November 8th. If you or a loved one has been impacted be this epidemic, join us, seeking the healing love and grace found in Christ Jesus. Visit greaterthanheroin.com for more information.
November 4/5
Memorial Service
This Wednesday, over a dozen regional prayer services will be taking place across our region. Hundreds will gather together in prayer to remember loved ones we've lost and those still fighting addiction. Join us as we lift our brothers and sisters in prayer.
Anytime
Understanding makes the difference!
Understanding is key to addressing the heroin crisis that is crippling our region and our state. Take some time to learn the facts about this crisis. Go to: www.GreaterthanHeroin.com. Understanding is greater than heroin. Together we are greater than this crisis.
RECOVERY PRAYERS
Serenity Prayer
God grant me the serenity
to accept the things I cannot change;
courage to change the things I can;
and wisdom to know the difference.
Prayer for My Recovery
Today, I heal my body, my mind, my spirit, my life. Drugs are a part of my past; they are not part of my now, they are not part of my future. Today, I am clean. Today, I am clean and free.
Today, I am becoming strong one second at a time, on thought at a time, one action at a time. I am learning how to live and to be the best parts of me today. Today, I am clean and free.
The Set Aside Prayer
Dear God please help me to set aside everything I think I know about [people. place or thing] so I may have an open mind and a new experience. Please help me to see the truth about [people. place or thing]. AMEN.
Salutation to the Dawn
Look to this day!
For it is life, the very life of life.
In its brief course
Lie all the verities and realities of your existence:
The bliss of growth;
The glory of action;
The splendor of achievement;
For yesterday is but a dream,
And tomorrow is only a vision;
But today, well lived, makes every yesterday
a dream of happiness,
And every tomorrow a vision of hope.
TALKING POINTS
• The heroin epidemic has reached crisis levels in our country and in our State.
• Ohio is at the epicenter of this crisis.
• They estimate that 1,000 people will die in Ohio this year because of heroin overdose.
• In 2016, Ohio had the most deaths related to heroin in the country: one in 9 heroin deaths across the US happened in Ohio. (Source: www.dispatch.com).
• A March 16th Washington Post story reported that Ohio is resorting to using cold-storage trailers as morgues because they can't keep up with the number of drug deaths. (Source: www.washingtonpost.com.)
• Most people know someone who is addicted, or has a family member or co-worker who has suffered as the result of this crisis.
• Most heroin addicts begin their path of addiction because of pain medication.
• We need to break the silence. So many hold their struggle and/or their pain to themselves out of fear or shame.
• Understanding both the crisis and pain of addiction is the first step to breaking the grip of this epidemic.
• Many recovery resources and opportunities are available to help in our region and state.
• We can all do a few things:
• Make certain that all Opiates prescribed to them by physicians are kept in a secure location away from children and the public.
• Safely dispose of opiates at your local County Sheriff's office.
• Pray for those who struggle.
• Pray for those who are working to protect us.
• Learn more by going to www.GreaterthanHeroin.com
• Reach out to your minister/pastor/religious leader for guidance.
• Saturday, October 28 is Drug Take Back Day. Take a few minutes to clean out your old/unused pain medications and drop them off to the local police or sheriff's department.
• All faith leaders in our region are being asked to bring attention and awareness to this painful and difficult issue.
• Together we are stronger than this epidemic. We can make a difference and bring help and hope to all in need.