Rx Awareness: Sharing real stories about the devastation of opioid use disorder and overdose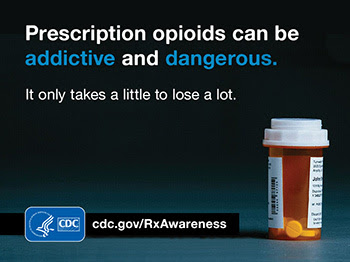 Overdoses from opioids are on the rise and killing Americans of all races and ages. From 1999 to 2015, more than 183,000 people died in the U.S. from overdoses related to prescription opioids. Families and communities across the country are coping with the health, emotional, and economic effects of this epidemic. To address this public health crisis, the Centers for Disease Control and Prevention (CDC) launched the Rx Awareness communications campaign, its latest effort, in the fight against opioid overdose.
The Rx Awareness campaign tells the real stories of people whose lives were torn apart by opioid use and abuse. The campaign aims to increase awareness and knowledge among Americans about the risks of opioids and deter inappropriate use.
With the tagline, "It only takes a little to lose a lot," the Rx Awareness campaign uses testimonials to educate the public, focusing on the dangers of prescription opioids whether used for medical or non-medical purposes.
The cornerstone of the campaign is a series of videos that feature individuals who are living in recovery from opioid use disorder, or who are family members who lost someone to a prescription opioid overdose. Other campaign materials include audio advertisements, social media advertisements, internet banners, web graphics, billboards, and posters all highlighting the importance of knowing the risks associated with prescription opioids in order to prevent overdoses.
Spread the Word
Everyone can help stop prescription opioid overdose. The success of the Rx Awareness campaign relies on individuals and on partnerships with state and local agencies and organizations across the country to share the messages and resources.
We need your support to spread the word! You can share and promote the Rx Awareness campaign on your social media channels, including Facebook, Instagram, and Twitter. Download shareable images and the Rx Awareness Social Media Kit from the Social Media web page.
Take part in our #RxAwareness Thunderclap: Support the Rx Awareness Thunderclap to Help Prevent Prescription Opioid Overdose. Join today and share on your social media channels to help us gain more support: https://www.thunderclap.it/projects/62514-raise-rxawareness
Twitter: It only takes a little to lose a lot. Raise awareness about Rx opioids and prevent Rx opioid overdose. #RxAwareness cdc.gov/RxAwareness
Facebook and Instagram: #RxAwareness starts with you. Tell others how prescription #opioids have affected you. Learn more at cdc.gov/RxAwareness.
Learn More About Rx Awareness
For more information about the campaign or for additional materials, visit the website www.cdc.gov/RxAwareness.