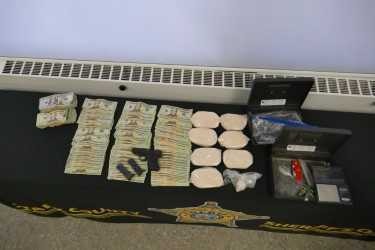 PLAIN TOWNSHIP, Ohio — The Stark County Sheriff's Office seized several ounces of powerful opioids and charged a man with drug possession Thursday, authorities said.
Victor Lynn Waiters, 44, was charged with possession of heroin, weapons under disability, and illegal use or possession of drug paraphernalia, sheriff officials said in a news release.
Deputies found 24 ounces of heroin and carfentanil while conducting a search warrant at Waiters' home in the 2100 block of 26th Street NE in Plain Township. The drugs are valued at $100,000 on the street, police said.
A handgun, $12,141, scales and other drug paraphernalia were also discovered at the home.
Carfentanil is an analog of — but significantly more powerful than — the opioid fentanyl and is used in veterinary practice to immobilize large animals. It is the most powerful opioid that is sold commercially. The drug has been linked to hundreds of fatal overdoses across Ohio.
ORIGINAL ARTICLE: http://www.cleveland.com/metro/index.ssf/2018/01/stark_county_sheriffs_office_s.html#incart_river_home