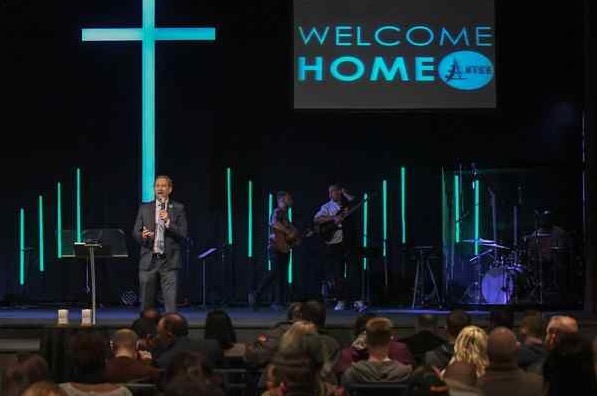 Mayors, emergency service personnel and members of the faith community came together in remembrance of those lost to Northeast Ohio's opioid crisis on Nov. 8. at Westlake's Church on the Rise at 3550 Crocker Road.
In a combined service with Elyria's Beyond the Walls Church, Church on the Rise led a special service which included a candlelight vigil to remember the lives lost to the crisis and to find a path forward in looking for solutions to Ohio's heroin epidemic.
The service was planned in collaboration with Mark Busch of Busch Funeral Homes and Crematory Services who detailed the sharp rise in heroin overdose deaths he has seen in his work where he operates several facilities across the Cleveland area.
Busch did not mince words, citing a New York Times report detailing the estimated 161 people per day who died from drug overdoses in the United States in 2016.
"It sickened me that we now have a country that has to have statistics relative to heroin deaths. And it sickens me that in 2016 our family unfortunately had to assist in care for families on average one family a week in 2016," he said. "It's very disheartening that now in 2017 I see no change in that trend and we are now experiencing two overdose deaths per week that we're caring for families here in Northeast Ohio."
In a moment of solidarity, Mayors Dennis Clough of Westlake, G. David Gillock of North Ridgeville, Paul Koomar of Bay Village and Pam Bobst of Rocky River symbolically stood together to take a stand in honor of those who have lost their lives to drug overdoses.
Clough spoke of the tragedy hitting his own family, underscoring the reality that the heroin epidemic truly does not discriminate in affecting families across demographic lines.
"It truly is a drug addiction that doesn't leave any family untouched," Clough said. "You would think in Westlake we wouldn't have a problem like that but it's all perception. Just like any suburb we have any type of crime or any type of addiction that you might find anywhere else out in the country or out in the inner city."
Clough said Westlake was one of the first cities to allow police officers to carry Narcan to allow them to treat suspected overdoses in an emergency.
The Westlake mayor detailed the tragic death of his 33-year-old nephew who died from an overdose about six months ago after he became addicted to prescription painkillers after sustaining an injury while in the military. He said his nephew died after overdosing on a pill laced with fentanyl.
"It can happen to anyone and it does. It's not a good thing to have to share a story like that, but it's the only way that people can recognize that it truly is an epidemic and you need to support those who have a problem or who might have a problem," Clough said.
Guests in attendance also heard from Church on the Rise parishioner Tim Huey, who spoke about the five family members he has lost to overdoses.
Church on the Rise used the evening to fundraise for Creation House, a new faith-based recovery home form women situated on the campus of Beyond the Walls Church at 101 Woodford Ave. in Elyria.
COO Dr. Paul Endrei said the property is currently in the process of being renovated in the desire to fill a need-based gap in providing a specialized treatment center for women.
ORIGINAL ARTICLE: http://www.morningjournal.com/general-news/20171108/lorain-county-mayors-come-together-to-tackle-the-opioid-crisis