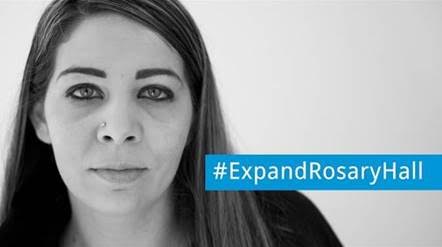 Since 1952, Rosary Hall has been at the forward edge of the fight against addiction. When our founder Sister Ignatia Gavin, CSA began this work, much of her focus was on the preeminently abused substance of the day: alcohol.
But today, addiction has morphed into a more sophisticated foe. While alcohol, cocaine and other drugs continue to destroy lives, it's the opioid and heroin epidemic that's taking lives in record numbers from families, neighborhoods and  communities. What talents are gone forever from the lives that have been lost as a result?
This opiate epidemic is a community problem that requires a community response. St. Vincent Charity is pleased to support the Opioids: Know the Risks campaign, which is a collaboration between local hospitals, government, law enforcement and media and aimed at prevention. But we also know that far too many people are addicted and in need of treatment now.
1 in 5 households has an adult with active addiction. More than 600 individuals in Cuyahoga County alone lost their battle to heroin in 2016. That's the kind of pain and suffering that none of us can ignore. We need quality addiction treatment available on demand.
St. Vincent Charity will expand its treatment services in the following ways:
Expand outpatient services to include 6-day a week partial hospitalization (PHP)
Expand services in our intensive outpatient program (IOP)
Provide transportation services for residents of sober living homes to attend PHP/IOP treatment
In partnership with Cleveland State University and others, establish a Center for Behavioral Health Sciences focused on education, research, workforce development and training, multi-institutional collaboration and informing policy
These immediate steps will allow us to treat 300 more individuals a year.
Long term we plan to expand Rosary Hall to include residential and sober living beds, allowing us to treat an additional 900 individuals/year.
While St. Vincent Charity is prepared to lead this effort, we cannot do it alone. We will need the support of the community, providers, government, partner agencies and individuals to end our epidemic.
We are pleased to share our new microsite www.EndOurEpidemic.com to support the expansion of Rosary Hall. We encourage you to share this site with friends and family and those affected by or working in addiction to help us rally together against this formidable foe. The site promotes three kinds of action:
ADVOCATE (for legislation, better policies and for the families and those addicted)
PARTNER (join us in collaborating to ensure we meet the needs for treatment across the continuum)
DONATE (support our expansion of Rosary Hall with a gift to help to help with programmatic and capital needs)
We will be using the rally cries of #ExpandRosaryHall and #EndOurEpidemic to share our message and gain support for this expansion. Below are a couple sample posts that you can use to help spread our message on your own social media channels. Help us help our community to End Our Epidemic.
Facebook:
Every 19 minutes, someone becomes addicted to opiates in the United States and 78 people die from accidental overdose. St. Vincent Charity is prepared to increase treatment services, but we cannot do it alone. Join us in the fight to #EndOurEpidemic and #ExpandRosaryHall. Visit EndOurEpidemic.com to learn how you can take action.
Twitter:
Join @StVincentCMC in the fight against addiction. With your help we can #ExpandRosaryHall. Visit EndOurEpidemic.com to take action.
Wendy A. Hoke
Vice President, Marketing and Communications

ST. VINCENT CHARITY MEDICAL CENTER
2351 EAST 22nd STREET
CLEVELAND, OH 44115 
Office 216.363.7440   Mobile 216.905.1161
wendy.hoke@stvincentcharity.com
stvincentcharity.com
Radiant Blog: www.svcradiant.com
CARE BEYOND MEDICINE™