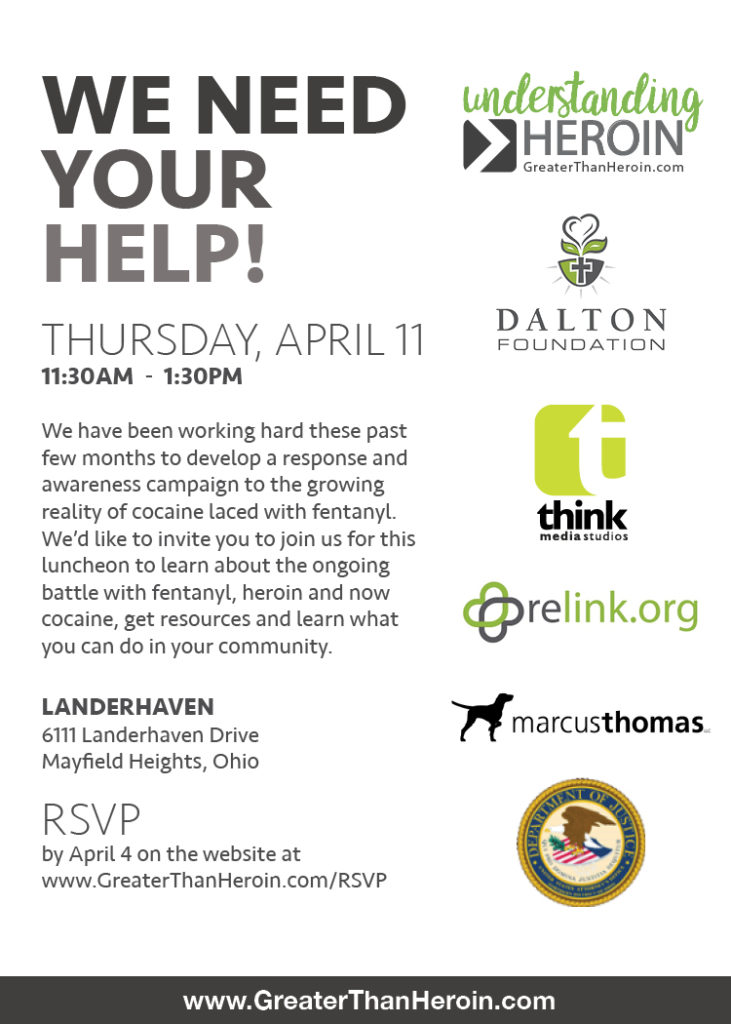 Intervening Today – Hope for Tomorrow: Lunch and Learn
Over the past four years, we have come together to develop resources and support in the fight against the opiate crisis. With so many good people working together, there has been great progress made. The challenge is that the crisis continues and has evolved. Come and learn more about the changing face of the opiate crisis and some new resources and strategies that we can use together to bring help, hope and healing to our region.
The heroin epidemic is real.
3,495+ people died in 2016 from opioid overdose in the state of Ohio.
It's impacting families, communities, schools, places of employment. People are looking for solutions – ways they can get involved – ways to help.
We've collaborated with local groups, churches, ministries and organizations to combine efforts and work together to solve this problem. GreaterThanHeroin.com is a resource center and place you can educate yourself and find the tools and resources to get involved. This packet has some simple and easy ways for you to get involved.
Many do not UNDERSTAND why or how other people become addicted to drugs.
It is often mistakenly assumed that drug abusers lack moral principles or willpower and that they could stop using drugs simply by choosing to change their behavior.
In reality, drug addiction is a complex disease, and quitting takes more than good intentions or a strong will. In fact, because drugs change the brain in ways that foster compulsive drug abuse, quitting is difficult, even for those who are ready to do so.
– National Institute on Drug Abuse
Submit Information, Events or Programs
Staying informed is the first step we can all take to fight the serious epidemic of heroin addiction happening in our community and surrounding areas. The reality is this is happening close to home. In our own families. Please have an open mind and heart…understanding is greater than heroin. We can make a difference together.

Greater than Heroin is a group of civic and faith leaders from Northeast Ohio committed
to addressing the heroin epidemic through understanding, collaboration, and awareness.
– Understanding through care, compassion, and support.
– Collaboration through community engagement and coalition building.
– Awareness through community education and resources