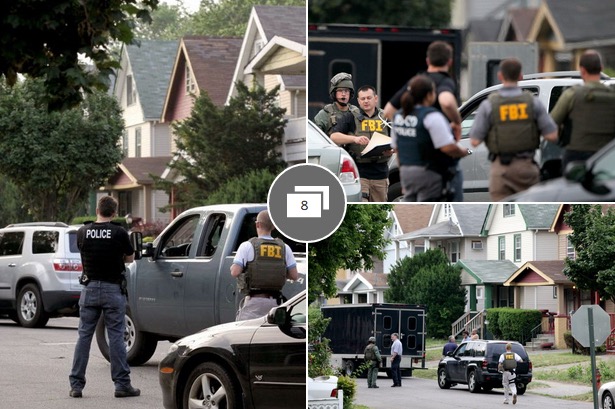 CLEVELAND, Ohio — Federal agents and city police officers conducted a synchronized, predawn sweep of suspected drug dens and hideouts throughout East Side Cleveland neighborhoods Tuesday, arresting more than 60 members of what officials called a violent, multi-state cocaine-trafficking gang. (VISIT ORIGINAL POST TO VIEW GALLERY OF IMAGES)
A 122-page, 97-count indictment filed later in the morning showed that federal and local investigators had been tracking the suspected drug dealers for two years, and recorded more than 37,000 cell phone calls with secret FBI wiretaps since September 2011.
U.S. Attorney Steven Dettelbach said the investigation, dubbed "Operation Northwest Express," netted 86 suspects, which was believed to be the largest number of defendants ever charged in a single drug-trafficking indictment in the Northern District of Ohio.
The federal indictment charges 72 suspects with drug-related crimes, such as conspiracy to distribute cocaine, money-laundering, and possession with intent to distribute cocaine. Another 14 suspects were indicted in Cuyahoga County. Sixteen suspects remain free.
The indictment provides a window into the gang's hierarchy. Edward Martin of Cleveland was accused of selling large amounts of cocaine to at least a dozen gang members, who then sold the white powder to lower-ranking members for further distribution on the street.
A Georgia man, Walter Williams, regularly traveled to Cleveland to sell kilograms of cocaine to Martin and others, the indictment said. While in the city, Ronald Whatley acted as a chauffeur, driving Williams to the various drug transactions while also acting as a police lookout, according to the charges.
Over the past few years, the gang sold millions of dollars worth of cocaine at up to $34,000 for 2.2 pounds of powder, and about $1,000 an ounce for crack, said Assistant U.S. Attorney Joseph Pinjuh, who will prosecute the case.
The indictment contains dozens of pages of transcribed phone calls between suspected gang members, most of it peppered with profanity and what investigators described as code words to disguise the drug transactions. Drug amounts were called "six piece," "ballie," "higgity" and "bizzel." They called a seven-gram pack a "Michael Vick" in reference to the Philadelphia Eagles quarterback's number seven.
"This investigation and 97-count indictment represent a top-to-bottom dismantlement of a violent criminal organization intent on polluting our neighborhoods with drugs," said Stephen Anthony, special agent in charge of the FBI's Cleveland office. "With one swoop, it effectively choked off the distribution of drugs in those neighborhoods."
More than 350 agents and officers participated in the early morning raids, Anthony said. All of the arrests went off without incident. Suspects also were arrested in Atlanta, Ga., and Lexington, Ky.
Agents have confiscated more than $200,000 in cash, and have seized at least three homes, cars, guns and jewelry, Pinjuh said.
Cleveland Ward 9 Councilman Kevin Conwell congratulated the federal and local officials and police officers at an afternoon news conference.
"You guys captured some bad dudes there," said Conwell, who described seven of the suspects as some of the worst drug dealers in his ward. "These guys have terrorized our neighborhoods for years."
Conwell said the residents of his ward had long complained to him about the drug dealers, and he had passed along their concerns to police and FBI agents.
"When they told me they were working on it I thought they were placating me, but I understand why now," Conwell said. "If it had gotten out that could have blown the whole operation."
The investigation almost blew up the afternoon of Jan. 6, when three suspected gang members from Kentucky, accompanied by an unnamed police informant, went to a house on Naumann Avenue near Euclid to sell cocaine to Charles Smith. Police said one of the gang members, Francisco Rodriguez, shot Smith twice in the back, then stole 42 ounces of cocaine and crack, and $30,000.
In a shootout that ensued on Lake Shore Boulevard, an officer shot Chase Downey, 24, of Lexington. He was treated and released into police custody. Police also arrested the two other men, plus a juvenile from Kentucky.
Councilman Polensek, whose ward encompasses the Collinwood neighborhood where the shootout occurred, applauded the sweep by federal agents and city police officers.
"I think this is great," said Polensek, who said he was aware of the raids and worked with investigators on the case. "My position is that we should get every one of these two-legged rats. That's just what they are. Rats. They destroy the soul of a community, and I don't want them destroying mine."
ORIGINAL ARTICLE: http://www.cleveland.com/metro/index.ssf/2012/06/post_28.html